And honestly, it isn't something I just discovered.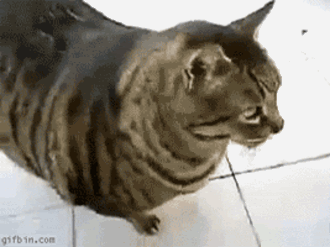 I am fat. Not a little fat, not pleasantly plump, I am fat. If I can say it why can't anyone else? I know it isnt my outfit making me look fat, it is my fat that makes me look fat. I know it's the hamburger and fries I stuffed in my mouth today that make me fat, not some unseen force that while I sleep says " BAM 10 more pounds on her ass!"
And although, I am completely on the omg fat scale, I have done a 5k. I want to do more. I am for the most part healthy, I have not killed any chairs and I still can wear clothes from the fat lady store.
So, why am I typing this all now? Because I think I need to break up with food. Don't get me wrong, food and I have a long love/hate relationship behind us and I think its just that time where I say " enough is enough" Do I continue to eat all my yummy foods and die so fat I need two coffins? My family can't afford that shit. And I need to break up with my addictions. (at least the unhealthy ones!)
So here I am, setting goals for myself, each goal has a different time frame and no expectations to omg do it NOW.
1. Break up with soda completely. Back to 100% water.
2. Walk at least three times a week.
3. Weight Watchers? Low carb? Starvation? I must decide, play with my options and decide which works the best for my body.
3. Take my damn vitamins!
4. Healthy breakfast this means no more cookies. (RIP White Chocolate Macadamia Nut Cookies in my belly)
5. Get on the scale ONCE for a starting weight then not again for 3 months.
6. Measure body inches lost NOT POUNDS.
7. Get to a healthy BMI
8. Treat myself but don't go overboard once every few weeks.
9. Make my own salsa more. Yum.
10. Shop in the skinny bitch section.
11. Remember that I am human and I have had this fat a long time. It isnt going to fall off in a day.
12. Wish the fat would fall off in a day.
13. It is ok to eat different on holidays. It is not a failure.
14.Take picture progress.
15. WALK.. you like it remember? Maybe you can talk G into a Nike+
16. Dance more with the kids.. they love it and it is good for you.
17. No more eating at the laptop.
18. Put some damn makeup on, you are not as old and frumpy as you look.
19. Love life this is it!
20. Moar goals. You needz them.
21. MOVE MY ASS. The internet will still be there when I get back.
22. Buy myself a cute cup again since Liam broke mine :(
23. Run a 5k
I hope G will come with me on my journey, but I am ok if his fat ass wants to stay fat. ;)
My reward if I can do this all? Life. Running, walking, living. Dirty things that I will not mention here because I am convinced my mom is the only one who reads this. Tattoos. Hiking. Yes, I want to go on a hike. Camping, I want to camp with my kids in the backyard.
I can and will do this.